Go to  www.rte.ie for Sunday Game, man of the match and interviews.
Tipperary 7-19 Waterford 0-19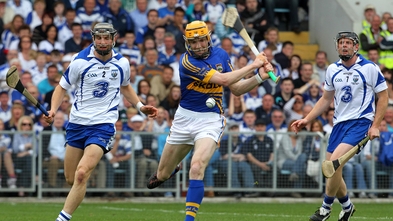 Lar Corbett – Scored four goals
Sunday, 10 July 2011 18:53
Tipperary thumped Waterford by 21 points as they collected their third Munster SHC title in four years.
Lar Corbett scored 4-04 and captain Eoin Kelly (2-06) and Seamus Callanan (1-00) also found the net in an embarrassingly one-sided final.
Declan Ryan's men tallied up the biggest score in a Munster hurling decider since Cork beat Waterford (5-31 to 3-06) back in 1982.
There were four goals in a sublime six-minute spell before half-time, which left Tipp coasting at 5-10 to 0-08 at the break.
The 36,654 spectators present at Páirc Uí Chaoimh witnessed a limp display from Waterford, who did improve in the second period and their young free-taker Pauric Mahony finished with 0-13.
It was a tour de force from the All-Ireland champions on a day when their long-serving goalkeeper Brendan Cummins equalled Christy Ring's Championship appearances record of 65.
Waterford simply had no answer to the movement and precise shooting of the Tipperary forwards, who profited from the pinpoint deliveries of Shane McGrath, Padraic Maher and Gearoid Ryan.
Waterford manager Davy Fitzgerald got his tactics all wrong and his defence was left badly exposed – Jerome Maher having a nightmare debut trailing 2010 Hurler of the Year Corbett.
Michael 'Brick' Walsh was initially moved into the full-back line and Kevin Moran stationed at centre-back, but Tipp's speed off the mark and interchanging of positions left the Déise spellbound.
Jerome Maher fouled Corbett for a second-minute free that Eoin Kelly knocked over and John O'Brien swung over the second point, with Shane McGrath soaring high for a couple of inspirational catches.
The game was only four minutes old when Padraic Maher cleared downfield, Corbett collected the ball on the bounce and his close range shot beat goalkeeper Clinton Hennessy for the first goal.
The 19-year-old Pauric Mahony accounted for six of Waterford's eight first half points, slotting his first after a foul on an increasingly frustrated John Mullane.
It was the only resistance last year's Munster champions could provide, with their forwards starved of possession and Stephen Molumphy and company guilty of overrunning the ball at times.
By the midpoint of the half Tipp were 1-08 to 0-03 clear with O'Brien, Noel McGrath, Corbett (0-02) and Kelly (0-02) all adding points.
Mullane and Brian O'Sullivan won frees for Mahony to knock over, with veteran defender Tony Browne, still turning it on at 38, landing Waterford's first point from play in the 20th minute.
Corbett pointed on the turn and a superb hand-pass from a falling Patrick Maher set up O'Brien for his third score. Mahony and Shane O'Sullivan kept the gap at seven points.
It was down to six when Mahony tapped over a free, but Shane Walsh's preceding run should had led to something more. Mullane also fluffed a shot after scampering away from Paddy Stapleton.
But Tipp's sudden avalanche of late goals left Waterford out of contention with 35 minutes still remaining.
The in-form Kelly started the glut of goals in the 32nd minute, gathering a clever pass from Patrick Maher and shooting into the bottom left corner of the net.
Corbett crashed home a high drive as another long ball caused problems for the struggling Waterford rearguard. There was no mercy shown in injury-time, Patrick Maher providing the assist again for Seamus Callanan to register the fourth.
There was a sense of disbelief as Stapleton and Gearoid Ryan combined to launch an attack and Corbett read the break to complete his hat-trick.
Mahony responded with a last-gasp free, leaving the margin at 17 points as the sides headed for the dressing rooms.
Having brought Jamie Nagle on for newcomer Maher, Fitzgerald made three more substitutions at the interval as Maurice Shanahan, Liam Lawlor and David O'Sullivan were introduced.
There was no sign of Tipp easing their foot off the pedal, the second half resuming with a successful free from Kelly and Corbett's fourth point from play.
At least there was more bite to the exchanges, Mahony converting two frees before Shanahan set him up for his first point from play.
Gearoid Ryan got on the scoresheet and Tipp skipper Kelly showed some fine touches in open play, first punishing some poor defending to take his tally to 1-05.
The Mullinahone ace then broke the ball into his path to smash over from the right. Mahony was unerring with frees at the other end, and help came in the form of successive scores from Mullane and Shane Walsh.
Before that, Hennessy did well to save a loose shot from Callanan and a rousing block from Browne showed Waterford had no intentions of giving up.
But Kelly got Tipp back on the goal-scoring trail, driving the ball home after Ryan had knocked an inviting ball forward. Two Mahony frees sandwiched a trademark sideline cut from Noel McGrath, with the Premier County purring along up to the hour mark.
Moran, Browne and 'Brick' Walsh kept plugging away from the well-beaten Déise, whose All-Ireland hopes now hinge on a quarter-final clash with Galway in two weeks' time.
Tipp corner back Michael Cahill showed great poise in front of his goal to initiate a counter attack which led to substitute Pa Bourke scoring. The scoreboard now stood at 6-17 to 0-16.
Cummins, who made his Championship bow against Waterford 16 years ago, came off to rapturous applause when Ryan took the opportunity to replace him with Darren Gleeson.
As if to rub salt into the already gaping wounds, just two minutes later Corbett flashed a great groundstroke into the net. The corner forward followed the flight of a free in from Conor O'Mahony and sent a crisp shot in from the left.
Tipp's stunning passage through to next month's All-Ireland semi-finals was completed by late points from substitutes Pa Bourke and Shane Bourke.
Having given Mahony 12 pointed frees in all, their discipline is one obvious area that they will have to work on.
Waterford will need a few days to recover from the shocking nature of their performance, late points from Molumphy and Shanahan giving them scant consolation after their Leeside lashing.
Scorers:
Tipperary: Lar Corbett 4-04, Eoin Kelly 2-06 (0-03f), Seamus Callanan 1-00, John O'Brien 0-03, Noel McGrath (0-01sl), Pa Bourke 0-02 each, Gearoid Ryan, Shane Bourke 0-01 each
Waterford: Pauric Mahony 0-13 (0-12f), Tony Browne, Shane O'Sullivan, John Mullane , Shane Walsh, Stephen Molumphy, Maurice Shanahan 0-01 each
Tipperary Team: Brendan Cummins; Paddy Stapleton, Paul Curran, Michael Cahill; John O'Keeffe, Conor O'Mahony, Padraic Maher; Gearóid Ryan, Shane McGrath; Seamus Callanan, Noel McGrath, Patrick Maher; Eoin Kelly (capt), John O'Brien, Lar Corbett.
Subs used: Brendan Maher for O'Keeffe (35+1 mins-half-time, blood sub), Pa Bourke for Callanan (50), Benny Dunne for Ryan (54), Shane Bourke for N McGrath (61), Brendan Maher for Padraic Maher (63), Darren Gleeson for Cummins (64).
Waterford Team: Clinton Hennessy; Darragh Fives, Jerome Maher, Noel Connors; Tony Browne, Michael Walsh, Kevin Moran; Stephen Molumphy (capt), Richie Foley; Eoin McGrath, Shane O'Sullivan, Pauric Mahony; John Mullane, Shane Walsh, Brian O'Sullivan.
Subs used: Jamie Nagle for Maher (28 mins), Maurice Shanahan for McGrath, Liam Lawlor for Fives, David O'Sullivan for Foley (all half-time), Eoin Kelly for B O'Sullivan (50).
Referee: Brian Gavin (Offaly)