Allianz Hurling League Division 1 Quarter-Final – Tipperary 3-25 Cork 4-19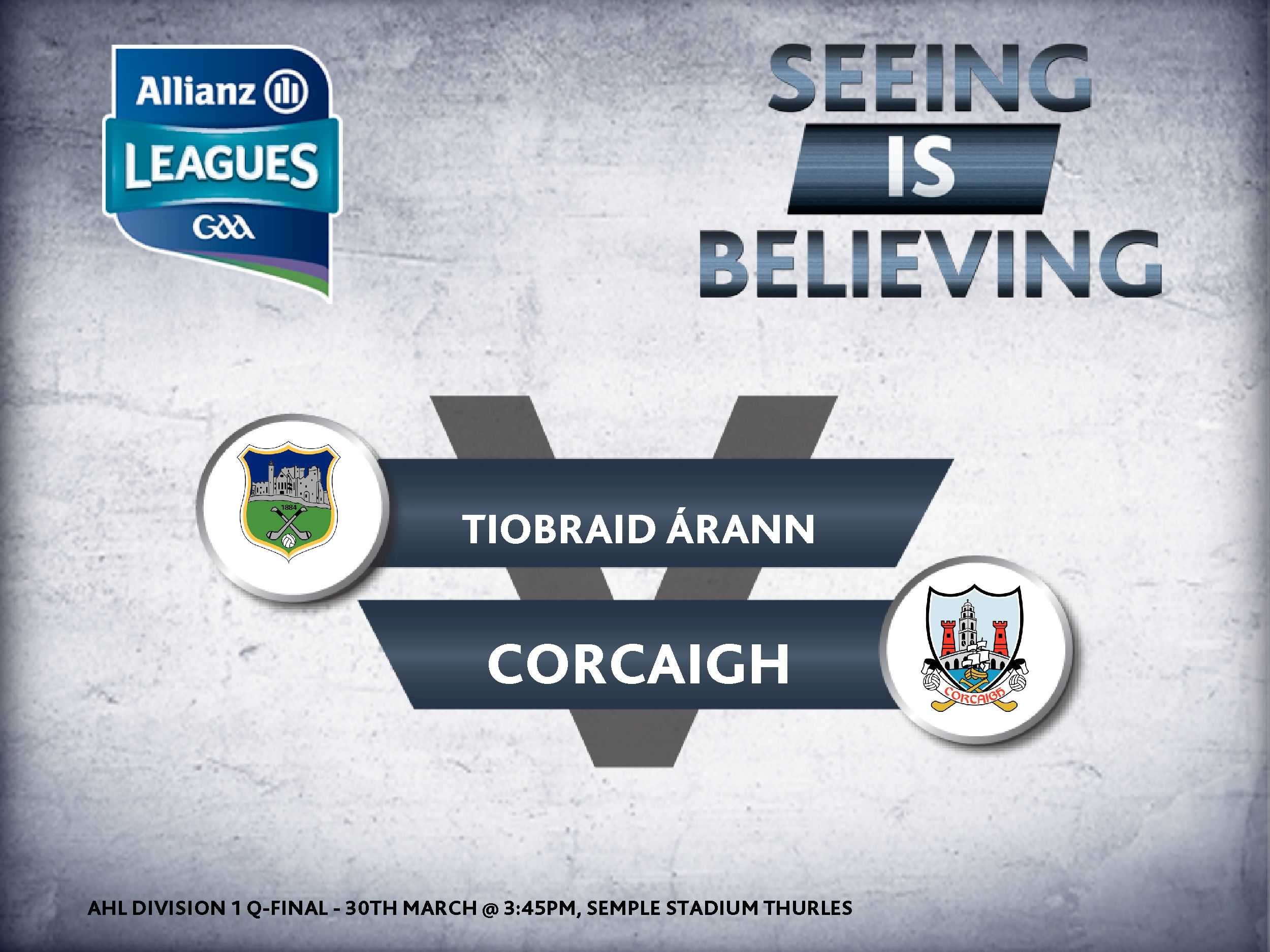 Tipperary defeated Cork by 3-25 to 4-19 in the Allianz Hurling League Division 1 Quarter-Final on Sunday at Semple Stadium Thurles.
Tipperary edge out Cork in Thurles thriller
ALLIANZ HURLING LEAGUE QUARTER-FINAL: TIPPERARY 3-25 CORK 4-19
Report from the GAA.ie web site
Tipperary have clinched a place in the semi-finals of the Allianz Hurling League following a thrilling three-point victory over Cork at Semple Stadium this afternoon. The ancient rivals hit 51 scores between them as John O'Dwyer collected the Man of the Match award following his 1-7 haul for Tipp. All of O'Dwyer's tally came from play on a day when Seamus Callanan added 0-8 to take his Allianz League tally to 5-40. Patrick Horgan hit 1-8 for Cork but still ended up on the losing side in a game pockmarked by seven goals, including six in the first half.
In front of 6,615 spectators in Thurles, Tipp cruised into a 2-4 to 0-0 lead with less than eight minutes on the watch. Denis Maher scored the opening goal of the game with just 36 minutes gone before League debutant Niall O'Meara hit an opportunistic goal in the seventh minute. But Cork responded through All Star Seamus Harnedy, who netted in the 12th and 15th minutes to bring Division IB winners Cork right back into contention. O'Dwyer kicked home Tipp's third goal of the game in the 32nd minute but there was still time for Cork goalkeeper Anthony Nash to ram home an unstoppable goal from a trademark 20m free before half-time.
At the break, Cork were 3-11 to 3-9 in front but Tipp would have the breeze at their backs in the second half. The sides were level twice before Tipp cruised into a 3-21 to 3-15 lead by the 58th minute. There was another twist in the 65th minute when Patrick Horgan took advantage of an error by home goalkeeper Darragh Egan to bag a close-range goal.
But Tipp, despite being pegged back to within a point in the final minute, held on for the win as Noel McGrath and O'Dwyer tagged on late points. Cork had the chance to salvage a draw with the final puck of the game but Nash was denied from a 20m free by a sea of Tipperary bodies protecting the Premier County goal-line. Tipp will play All-Ireland champions Clare in the semi-finals of Allianz Hurling League in three weeks time.
***
Scorers for Tipperary: J O'Dwyer 1-7, S Callanan 0-8 (3f, 1 65), D Maher 1-1, N O'Meara 1-0, J Woodlock, N McGrath & S Bourke 0-2 each, C O'Brien, B Maher & K Bergin 0-1 each.
Scorers for Cork: P Horgan 1-8 (0-5f, 0-1 65), S Harnedy 2-0, A Nash 1-0f, J Coughlan & C Lehane 0-3 each, D Kearney 0-2, K Burke, W Egan & P Cronin 0-1 each.
TIPPERARY: D Egan; P Stapleton, C O'Mahony, C O'Brien; J Barry, B Maher, T Stapleton; K Bergin, J Woodlock; D Maher, N McGrath, J O'Dwyer; S Bourke, S Callanan, N O'Meara. Subs: R Maher for O'Mahony (half-time), J Forde for O'Meara (52), L McGrath for Bourke (62), E Kelly for D Maher (66), J O'Brien for Callanan (70+1).
CORK: A Nash; C Joyce, D Cahalane, K Burke; L McLoughlin, W Egan, E Keane; D Kearney, P Haughney; B Lawton, S Harnedy, P Cronin; P Horgan, C Lehane, J Coughlan. Subs: R O'Shea for Lawton (49), C McCarthy for Haughney (61), A Cadogan for Coughlan (62).
Referee: Barry Kelly (Westmeath)